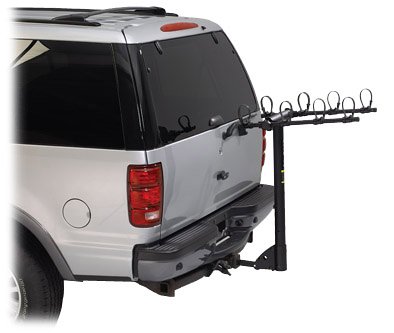 One of the best parts of the summer is being able to take a little vacation. The weather is nice and the mood is carefree. Every destination offers a new adventure.
This is especially true for those who like to participate in outdoor sports. Bicycle enthusiasts often take their bikes along with them on these journeys.
For those who have SUVs, you are likely to have more than enough space for your luggage, but how can you travel with your bikes?
Choosing the best bike rack for SUV's can be somewhat of an overwhelming process. The styles and prices can vary. This is why it's so important to take the time to study the differences between each.
The best rack will provide the proper fit, a means of secure transport and will go easy on your budget. In contrast, certain racks can prove to be a safety hazard, damage your SUV or possibly lead to a lost or stolen bicycle.
Bike racks usually fall into three different categories: a hitch-mount rack, a spare tire mount, and a rooftop rack. Though each category may be utilized on an SUV, each of these has its own pros and cons. Let's take a moment to discuss each.
Hitch Mount Bike Rack for SUV's:

Most sports utility vehicles that have a hitch receiver that can accept a hitch mount. Even if it does not have a receiver, one can easily be installed. 
Hitch mounts offer several advantages. It enables the user to attach their bicycles without having to do much lifting.
They leave enough room between the vehicle and the bike which ensures that there will be no damaged caused to either. Some models offer locks to provide more security. Also, hitch mounts are not permanent fixtures and can be removed very easily.
Though hitch mounts have their advantages, they also have disadvantages as well. This type of mount can block access to the rear of your SUV–the swing away models can be very costly.
If you do not transport your bicycles in trays, they will be more likely to sway away and bump into each other. Hitch mounts also may make it difficult for the user to lock the bikes that are strapped in.
One of the most notable cons of this type of rack is that it could possibly obstruct your license plate, taillights, and the rear view window. It can also be extremely hard to maneuver the vehicle within tight spaces.
Spare Tire Bike Rack for SUV's:
If your SUV is equipped with a rear mounted spare tire, then the spare tire mount may be the perfect rack for you. The spare tire mounts are extremely light. They are compact so when you remove your bicycle, you don't have to worry about rear-door access obstructions.
They are moderate in cost and offer an easy installation. Spare tire mounts ensure that the user does not have to do as much lifting.
If you are concerned with damaging your vehicle's finish, this rack can offer enough space to prevent this. Though many individuals choose to leave the rack attached to the back of their SUV, it's not necessary as it can easily be removed.
We must also take the time to consider spare tire mount cons. The spare tire mount has a limit to how much it can hold; they can carry up to two bikes at one time.
At times, bikes can sway and are more likely to bump into each other. Just as the hitch mounts, the spare tire mounts make it difficult for the user to lock the strapped-in bikes to the mount and can easily serve to obstruct the license plate, taillights, and the rear window.
Rooftop Bike Rack for SUV's: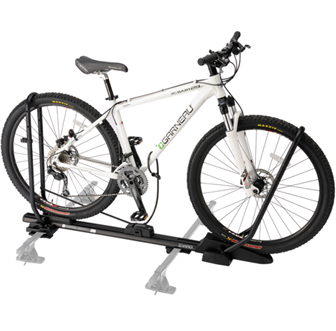 Rooftop racks are most known for their being versatile. It gives the user the ability to transport almost anything as long as they have the proper accessories. They offer stability and don't get in the way of your tail lights or rear window. It also offers locks which ensures that the bikes are less likely to sway. It's also easier to find items which will assist the user with the loading process.
Though the rooftop mount offers a great deal of versatility, there are a few things you should keep in mind before you make your purchase.
This rack requires more strenuous lifting. If your SUV did not come with its own rack system, then you will be responsible for building own system. Because the bicycles will be affixed to the roof, you should expect a little wind resistance which will reduce the aerodynamics of your SUV and lead to your having to spend more on gas.
The driver must also be aware of building structures; they must always be mindful of height restrictions (i.e. toll booths, garages, and low hanging branches.)This particular model will also require that the rack be permanently attached to your SUV.
Conclusion:
Each of these racks offers its own advantages and disadvantages. If you want something that is easy to install, allows you to do the minimal lifting, is least likely to cause damage to your vehicle, offers security and can be detached, then you should consider purchasing hitch mounts.
However, keep in mind that you will deal with obstruction of view, a lot of swaying, difficulties locking it into place and maneuvering into tight spaces can be a little tricky.
If you are interested in a rack that is very light, compact, free of access obstructions, reasonably priced, easy to install and can be easily removed then spare tire mounts would be ideal.
Though it's important that you consider the fact that it is limited in how much weight it can hold, you must deal with a lot of swaying, it can be difficult to lock and can serve as an obstruction.
For those who would like something that is more versatile, offers more stability and can be locked more easily, then you should purchase the rooftop mount.
Just be aware of a few inconveniences such as: strenuous lifting, extra installation and height restrictions. Choosing the best bike rack for SUV's doesn't have to be difficult if you are familiar with the mechanics of each one.