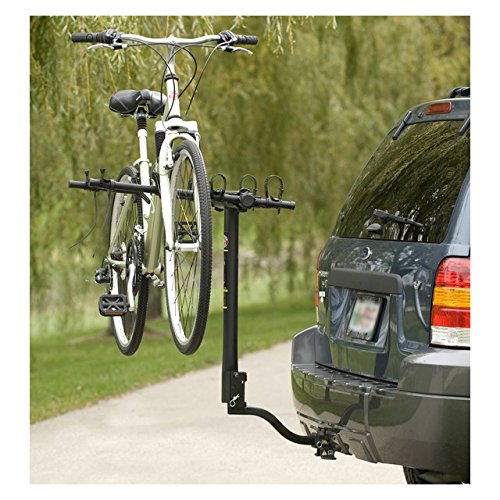 Bicycles might not be the primary mode of transportation for many Americans. However, at least 30 million people own a bike. People all over the country love to ride their bikes around their neighborhoods, on city streets and along designated bike trails. Many cyclists will even ride on rugged terrain for some off road cycling activity. When people transport their bikes from one location to the next they typically use a bike rack. A bike rack for minivan is the perfect way for owners to transport their bikes without a hassle.
Most manufacturers also design bike racks with a vehicle in mind. Minivan owners will appreciate how some bike racks have a highly detailed finish that compliments most colors and makes of minivan vehicles.
3 Bike Racks for Minivans without a Hitch:
Basic Information about Minivans and Bike Racks
A minivan is designed to transport cargo. The back space within most vans have removable seats so owners can use their vehicle for this purpose. While it is true that a motorist's can transport their bikes in the back cargo area of their van; this might not be the best way to these objects.
Drivers who will be traveling with family or friends may not be able to remove the back seats from out of their minivan. If a person encounters this problem, while they are transporting bikes; they will need to use a bike rack.
In the past, most bike racks were installed on top of a vehicle. Using the roof of a vehicle was a practical way for motorists to transport their cycles. Currently, most bike racks are assembled on the back part of an auto. The average roof of a sits about 6 feet off of the ground. The average bicycle is about 3 feet high. If a motorist adds a bike rack to the top of their van and then place the bikes onto the rack; they could end up with 10 foot height for their vehicle.
While this might not be that big of a deal in most places; in some parts of the country it could pose problems for road travel. This is especially true for drivers that have to pass beneath a low bridge or tunnel. Also, some states have limitations on the height requirements for non-commercial vehicles.
Most bike racks for minivans have been designed for the back of vehicle for reason. This type of mount saves space, reduces extra height and is relatively safer when traveling. Keep in mind that roof mounted bicycles can (and have) fall off of the rack into traffic. They could even hit pedestrians if this happens in a public place where a lot of people gather.
Materials Needed for Bike Racks
The material that is used for the bike rack must be made out of a sturdy and durable metal. Many racks are made out of anodized aluminum, carbon and steel. All of them must be treated with some type of water and rust resistant coating; if not they will rust and eventually become useless. They also must be able to retain their finish since they will be constantly exposed to the sun and wind. Individuals that live in colder climates need a rack made out of materials that will not crack or break apart in below freezing temperatures.
Bike Racks for Multiple Cycles
Most people who ride bicycles typically own up to two cycles. People who are a part of a family will more than likely have multiple riders in their household. So when they travel they will definitely need more rack room for the bikes. This is also true for people who travel with their friends to bike competitions or for casual riding trips. A multiple trunk bike rack for minivan would be perfect for people in this type of situation.
A trunk mounted bike rack for minivan can be installed on the back hatch of the vehicle. They typically have multiple rack slots for holding at least 2 or more bikes. Most multiple bike rack holders can carry between 2 to 6 bikes. The average multiple trunk mounted unit has up to 4 slots.
Some trunk mounted racks can hold more than 6 bikes but if they do; the vehicle carrying this type of load must be larger than a minivan. Six bikes are usually the maximum load amount that a minivan should carry.
Here are some multiple trunk bike rack holders:
There are many different types of options that can be used for bike racks. First, all bike racks are not designed the same but they serve the same purpose. A bike rack for minivan could be designed to hold cycles in a vertical formation while others can transport them horizontally.
Models could have latches to hold a cycle in place or they could straps for this purpose. Some even have locking mechanisms for keeping bikes secure. Bike racks can also have swinging arms that allow owners to move their cycles to different positions. This type of feature is great for van owners who travel over hilly country or treacherous mountainsides.
A bike rack could even be converted into a bike stand which allows owners to fix their cycle on spot. This type of feature is great for cyclists who compete in races and might not have access to an area for repairs. There are sliding bike racks where a cyclists can slide their bike into position and then take it off of the rack in the same way. A folding bike rack can be used to store a bike in an upright position. Some racks can even transport electric or custom made bicycles. There are also some racks available on the market that contain connection points for helmets and other bike accessories. Ultimately, there a wide variety of bicycle options that people can use for their minivan bike rack.
There are many different types of bike mount racks that minivan owners can choose. Each of them are usually strong and safe enough to transport cycles to their intended destination. All of them have been designed to maintain a vehicle's finish. So a minivan owner will not have to worry about scratching up or denting their paint job once these devices have been installed.
All bicycle owners with a minivan ought to take the time to look around for the best type of bike rack for minivan for their individual situation. Once a cyclists takes the time to look; they will quickly discover the best type of rack that meets their needs.
Check out the large assortment of bike racks for minivans that are available here!
Here are some high end minivan bike racks that are sophisticated and stylish:
These are just a few of the many high end bike rack brands that are available on the market.