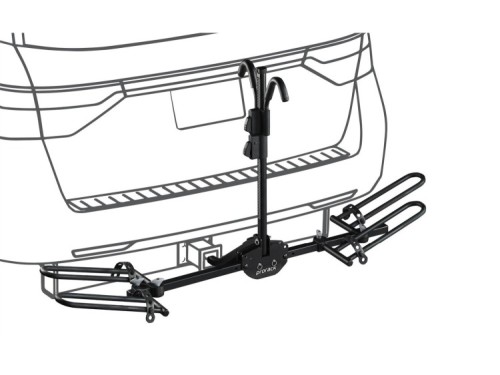 Choosing a bike rack is a big decision as there are many variables to consider. Finding the right rack can add convenience to the lives of bikers and support the overall care and safety of the bike itself.
When choosing a bike rack there are two main questions to consider:
How does the rack load onto the vehicle?
How does the bike load onto the rack?
The information included below will attempt to answer both of those questions.
Hanging Platform Bike Racks
On a hanging rack, bikes are held in cradles attached to bars. This increases the car's ground clearance and this style is easier to use with mountain bikes and road bikes.
Hanging racks can be found on hitch mounted racks, spare tire racks, and trunk mounted racks. While hanging racks can be a good option for some consumers, this article will look more closely at platform racks.
Platform Bike Rack Styles
Platform-style racks
hold the bikes in place on trays which allows for easy loading and unloading. The base tends to be more stable and bikes wobble less which minimizes any bike-on-bike contact.
The bikes are held in place with an arm that clamps either the front wheel or the frame and is usually accommodating to non-standard bikes frames.
Platform bike racks fall into two main categories: hitch mounted and roof mounted racks. Depending on the style of bike, the compatibility to the vehicle, and user preferences, both racks can offer a solid choice for consumers.
Hitch Mount Bike Racks
Platform-style hitch racks offer a stable, easy to install choice for vehicles with a hitch receiver. Many consumers appreciate that there is only a moderate amount of lifting involved which makes loading and unloading the bikes a seamless process. And because platform-style hitch racks also offer a higher weight limit, they can carry anywhere from 2-5 bikes.
Pros
The rack is easy to install to most vehicles with a hitch receiver.
The low ground access makes loading and unloading the bikes easy.
Most models have an extension that allows the rack to carry up to 2-5 bikes.
Vehicles can still access low-clearance areas like parking garages.
Cons
Hitch racks tend to be more expensive than other styles.
Drivers lose trunk access when the bikes are loaded.
Because of the sturdy frame and possible add-on extensions, platform-style hitch racks tend to be heavier than other types of racks. This can make uninstalling the rack more tedious.
Drivers should be aware of the added length to the vehicle when reversing or parking in tight spaces.
Roof Mount Bike Racks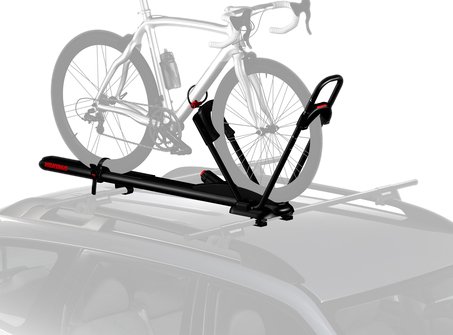 Roof racks are platform-style racks located on top of vehicles that have an existing base rack system. They offer versatility and accommodate most non-traditional bike frames.
The bikes are held securely and many models simply hold the wheels and do not come into contact with the frame at all.
Roof racks are usually more moderately priced and because the bikes are placed overhead, trunk access is still available.
Pros
Since the bikes are held overhead they do not obstruct the driver's view of the road which allows for an out of sight, out of mind mentality.
Roof racks tend to be more cost effective.
This type of rack is usually easy to install.
The bikes are held stable and do not sway.
Cons
The bikes must be lifted overhead to load them onto the rack. This could be challenging with larger vehicles or for individuals who are smaller in stature. Some models require the front wheel to be removed as well.
The added height can be a safety risk to both the vehicles and the bikes. Drivers should always use caution in low-clearance areas.
Increased wind resistance can affect the overall gas mileage and the noise created can be conspicuous when driving.
Conclusion
Platform-style racks are a good option for consumers who are looking for a rack that offers optimal safety to both the vehicle and the bikes.
They tend to be more stable than hanging style racks and because the bikes are held on trays, there tends to be less movement during transit.
Roof racks and hitch racks are both platform-style racks and both offer versatility and accommodate many non-traditional frames.
When considering any bike rack, consumers should first consider their vehicle and then consider their bike.
Prior to purchase, consumers should always be sure to check for frame compatibility as well as referencing their vehicle's user manual to make sure the vehicle can hold the weight of the desired number of bikes.
Check out the platform bike racks that are available on Amazon!