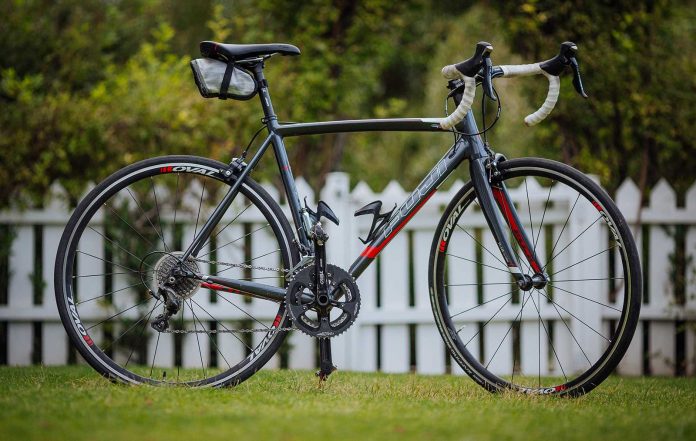 Best Road Bikes Under $1000
Any form of biking is a great fitness activity and will allow for enjoyment of the outdoors. Road biking has the added feature of allowing participants to tour the world anywhere accessible roads exist, taking in the scenery at a slower pace and in a more intimate way than when traveling by car.
Road bikes set themselves apart in that they are uniquely designed for quick and efficient travel along paved roads, allowing riders to travel faster and farther than other types of bikes.
And while road bikes can cost up to $10,000, there are many models priced under $1,000 that have received rave reviews from those who purchased them.
If you are looking for the Best Road Bikes Under $1000, we have our top five listed below.
Schwinn Men's Phocus 1500 700C
The Schwinn Phocus 1500 is an affordable, versatile road fitness bike that provides a comfortable riding position and stability due to its flat handlebar and Schwinn ergonomic saddle seat.
A lightweight aluminum fitness frame, including a full aluminum rigid fork, enhances the bike's agility and quickness.
Quick gear shifting is made possible by a Shimano 24 speed rear derailleur that is equipped with EF 60 fire trigger shifters. An SR Suntour alloy crank sets up a wide range of gears.
The Phocus 1500′s high profile alloy wheels are lightweight and strong and feature quick release with 700c wheels. Its high performance linear pull brakes can stop the bike's wheels quickly.
The Phocus 1500 is adaptable to riders of varying size due to the quick release feature of its Schwinn ergonomic saddle seat, which allows for easy height adjustment.
Although assembly is required, the Phocus 1500 is very easy to put together, even for new riders that have never assembled a bike before.
FOREVER Fixie Track Single Speed Bike
FOREVER is a long-established manufacturer of traditional bicycles. The Fixie Track single speed bike provides quality construction at an affordable price.
In spite of the bike's apparent simplicity, with its fixed gear single speed, it possesses a number of features that can be appreciated even by veteran riders.
Most users find the Fixie to be a comfortable ride and a quick handling bike. It features a lightweight Reynolds 520 aluminum alloy frame, a feature that sets the bike apart from the high-tension steel frames found on the average single speed bike.
However, the fork is constructed of 1 1/8 inch Cromoly to provide added strength. The frame is available in either black or white.
The Fixie has aluminum double wall Star Circle rims 47mm in diameter with stainless steel spokes, supporting Kenda Presta tube tires which inflate at 110 PSI.
The Fixie is ideal for those who want a reliable, quick-handling, fun-to-ride bike, but who also want to avoid the headaches of bike maintenance. The single speed Fixie is a smart alternative to the complications associated with owning multi-speed bikes.
Tommaso Monza Road Bike
The Tommaso Monza is a great choice for those who want a high performance road bike, but with features geared toward the everyday road fitness rider instead of competitive racers.
And when compared to well known high performance road bike lines, it has an affordable price.
The Monza's features bridge the gap between high performance and the need for comfort and ease of use required by non-competitive road riders. The saddle has extra cushioning to increase comfort at common seat pressure points.
The bike's 50/34 chaining crank ratio provides a gear small enough to make a difference in rider joint stress when climbing up sloping terrain, but still performs well when cruising on the level or downhill.
The frame design is such that the bike can be mounted and dismounted more easily.
The Monza retains a key feature found on even the most expensive Tommaso bikes — its frame construction. The proprietary corrosion-resistant SLA 6061 frame is a key feature of the Monza, and the frame design incorporates the same concepts for which the Tomasso line if famous.
Tour de France Packleader Pro Bike
The Tour de France Packleader Pro is a versatile, low-priced, entry level road bike that may find some non-road bike uses.
It features wider tires than most road bikes, so it can be ridden on surfaces a little rougher than road pavement. Even so, the bike is fast and agile enough on smooth surfaces to make it an effective road bike, as well.
The Packleader Pro features an aluminum alloy frame, keeping the bike's weight on the lighter side. However, the fork is constructed of steel to provide greater strength, further enabling the Packleader Pro to operate under less than ideal smooth road conditions.
The bike features Shimano components, including an A50 drivetrain, FD-R42/RD-R44S derailleur, and stem mounted SIS lever shifters providing 16 speeds.
The Packleader's rims are 700c double walled alloy, supporting Kenda West 700c/28 tires. It is equipped front and back with caliper brakes.
Tommaso Imola Road Bike for Women
The Tommaso Imola road bike is a quality bike featuring a compact frame specially designed for women.
The Imola is an affordably priced option for women who want to break into the sport of road biking, and who want a durable bike manufactured by one of the industry leaders. The Imola is also suitable for intermediate riders, and can represent an upgrade over most entry-level bikes.
Like all Tomasso bikes, even the higher end models, the Imola features Tomasso's proprietary 6061 SLA Aluminum compact frame, but with special design considerations for women.
Also designed with women in mind is a special version of the Tomasso Road Saddle.
The Imola is a 24-speed bike and features Shimano drive train and gearing, including an upgraded silver derailleur and innovative SunRace R-80 shifters. The bike is geared to allow for
And there you have it. Our list of Best Road Bikes Under 1000 Bucks!